Discounted Package Deals That Don't Break The Bank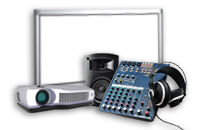 BMS Computer & AV Rentals offers rental packages on computers and audio visual equipment that can save you money while adding production value to your tradeshow or corporate event. 

Smaller, more intimate events may only require a laptop, projector, and a screen. These pieces rented individually start around $195. As a package, rentals start at around $140, offering nearly a 25% discount for our package deals. 

Medium-sized corporate meetings would benefit from a brighter projector, a larger screen, and a powered sound system with microphone to amplify the presenter with quality sound.This cost-effective package starts at around $275. 

A large corporate event would certainly need upgraded projectors, dual screens and a larger multiple speaker sound system, with, perhaps a stage with podium to accommodate viewing and audio for a large audience. This cost-effective package starts around $800. 

Let us know your setting and the size of your group and we will customize an AV package that will affordably enhance your event or trade show. 

Submit a request for quote and we'll get back to you as soon as possible. Unsure of what you need? Call or email us, and rely on our expertise to help you select the right equipment for your computer rental package needs.