Stand Out From The Crowd with Large Video Displays!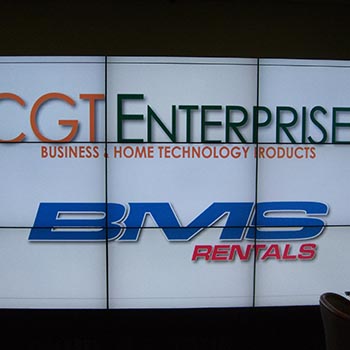 Trade show video display rental is an ideal choice for your next business event. Our video displays are ideal for kiosks, conferences, tabletop displays, trade show booths, and 
much more!

BMS Computer & AV Rentals offers flat-panel and projector equipment to perfectly suit any venue or setting, including trade shows and corporate events. We offer a large selection of display options that include:

Value: 17"-32" video displays great for welcome kiosks, confidence monitors, tabletop booth displays. Starting price: $30.00. Add a value projector starting around $80. 

Preferred: 32"-55" video displays are ideal for trade show booths or digital signage. Starting price is $95. 

Premium: 60"+ video displays great for any occasion to catch the eye with your company logo or newest website. Call for pricing to get the display setup you can't live without for your next event. 
Best Solution For Trade Shows!
If you are considering a Premium Video wall display, call today and let us help you configure an unforgettable display.When it comes o providing the latest top-notch technology and equipment.and services in the event management industry – BMS Computer & AV Rentals is the leading company. We are the full-time rental service company that operates nationwide. We will make your every event run smooth as planned.
BMS Computer & AV Rentals is the leader in the US market when it comes to quality equipment rentals. Eye candy equipment for top-notch business presentation. If you can just imagine a perfect event – we can make it come true! Schedule your free consulting and we will find a perfect solution for every event – from big tradeshows to more intimate settings. Trade show video display option will help you reach your business goals.
Ask our consultant which package suits your needs and budget. Submit a request for quote and we'll get back to you as soon as possible! Or, call 1-800-886-3995 or contact us by filling out our online form and rely on our expertise to help you select the right equipment for your large video display rental needs.