Large-Format LED  
Plasma 

LCD display Rentals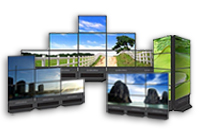 We offer a large selection of plasma LCD  LED display rental options, in order to best fit your needs. Our display rentals give you an eye-catching display in every venue including trade shows! Let us help make a booth display that will best fit your event and best represent your company. Our display rental options are also perfect for corporate events. Whether it's a large or more intimate event setting, our monitors give you the powerful, professional look you want. 
Display Rental Options:

Entry-Level:

 

19″-32″ Displays great for welcome kiosks, confidence monitors, table top booth displays. Starting around $50.00. 

Mid-Level:

 

32″-55″ Displays great for trade show booths, digital signage. Starting around $95.00 

High-End:

 
60″+ Displays great for any occasion to catch the eye with your company logo or newest website. Call for pricing to get the display setup you can't live without for your next event. 
Check out our Video Wall Rentals for size, flexibility, and a truly unique display. 
Know what equipment you want? Submit a request for quote
 and we'll get back to you as soon as possible. Unsure of what you need? Call or email us, and rely on our expertise to help you select the right equipment for your monitor rental needs