Capture the Moment and Look Like a Pro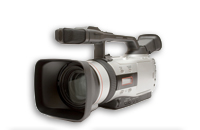 Video camera rental can be quite useful...Motion capture is taking businesses and social media by storm. Video cameras can be a great interactive tool for your event, training presentation or tradeshow. You will not only have the entire event recorded – there is much more. The video camera can also increase your event security. You will be in control of every aspect of your perfect event. Later you will enjoy looking back to that special event… over and over again. Because of our camera magic. 
Video camera rental for all important moments
Check out our custom video camera options. Submit a request for quote and we'll get back to you as soon as possible! Unsure of what you need? Call or email us, and rely on our expertise to help you select the right equipment for your video camera rental needs. Find our nearest locations.