Quality Speaker Rental. Reasonable Prices.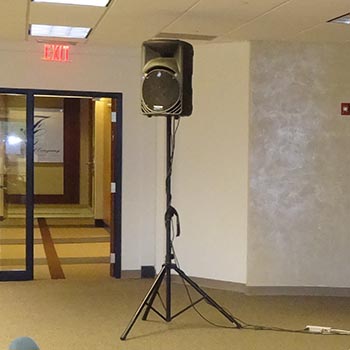 BMS Computer and AV Rentals offer a large selection of speaker equipment rental to address any size group. Let us provide you with quality sound at your event. Whether you are coordinating a large or more intimate setting, we will recommend the best speakers and audio equipment to complement your packages such as microphones and digital music to set the tone you want for your event.
If you want to look professional for your business presentation – ordinary speakers will do no good. Try something different and experience only the pure sound. Let your voice be heard. Speaker rental sounds really like a good plan – it is more affordable than buying speakers. Technology is always changing an improving and with our speakers, you will be sure that you are paying for the latest technology and high quality.
Speaker rentals – the most important guest speaker you'll need
Entry-Level: Starting around $50.00 

Mid-Level: Starting around $150.00 

High-End: Call for pricing to get the custom sound system you need. 

Know what equipment you want? Submit a request for quote and we'll get back to you as soon as possible! Unsure of what you need? Call or email us, or fill out our contact form and rely on our expertise to help you select the right equipment for your audio needs.